As the boundaries between indoor and outdoor living continue to blur, homeowners are seeking ways to elevate their outdoor spaces and make them even more functional. One of the biggest trends we're seeing in outdoor design is the incorporation of technology to create a seamless transition between indoors and out.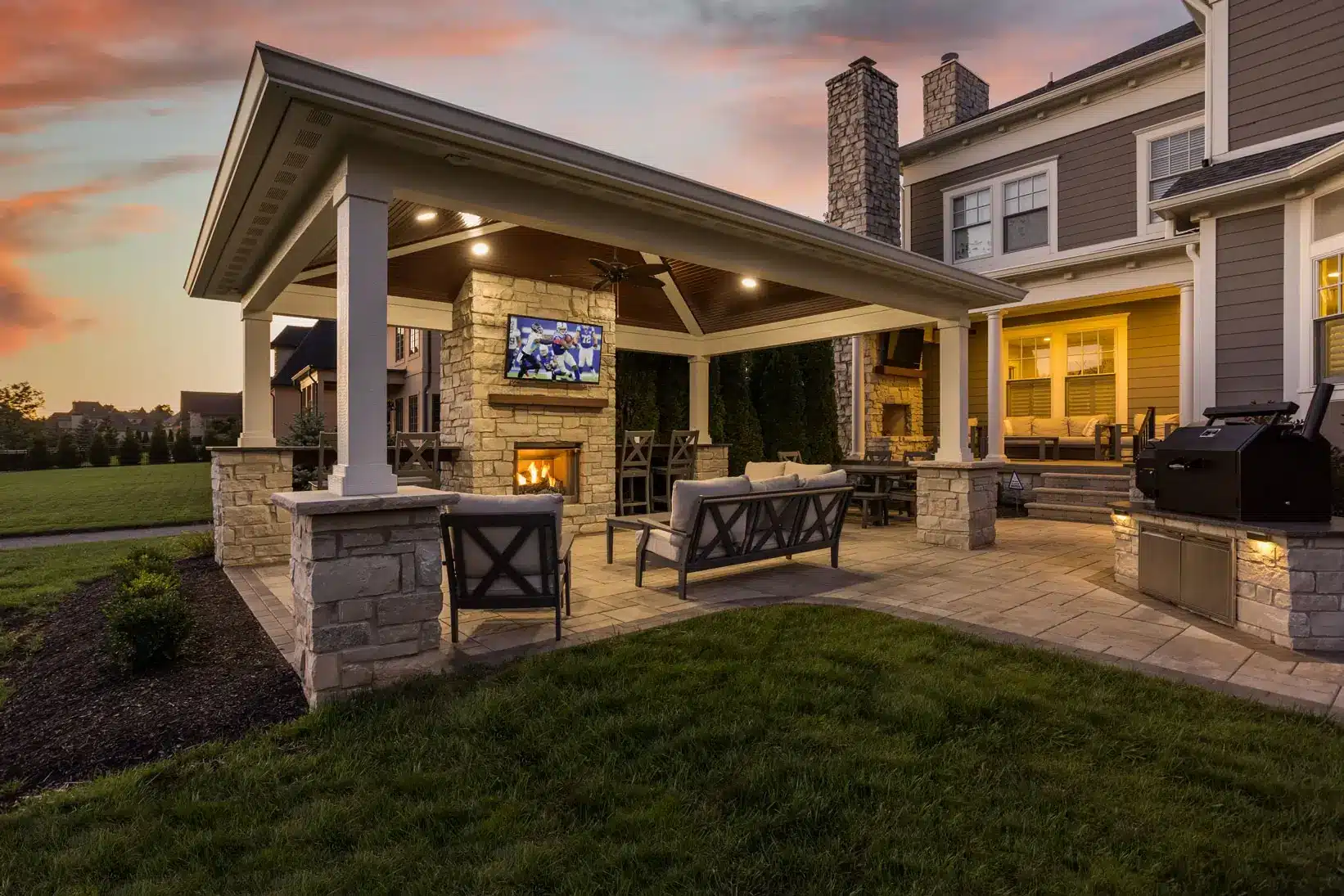 Smart lighting
One of the most popular trends in outdoor technology is smart lighting. With the ability to control lighting levels and colors remotely, you can create the perfect ambiance for any occasion. You can also program smart lights to turn on and off at specific times, providing added security and energy efficiency.
Weather-resistant A/V equipment
Another popular trend is bringing entertainment outdoors. Weather resistant TVs and speakers are durable enough for outdoor use, without compromising picture or sound quality.
Outfitting your space with weather-resistant equipment makes it possible to enjoy your favorite music, movies, and shows while lounging by the pool or relaxing on the patio. Many of these TVs and speakers even come with built-in connectivity to make streaming from your smartphone easy.
Kitchen technology
Outdoor kitchens aren't excluded from technology advancements. More and more clients are requesting built-in grills and cooktops that can be controlled with a smartphone app. App connectivity makes it easy to keep an eye on cooking progress, adjust temperature settings, and even remotely turn off the grill when you're finished cooking.
Smart irrigation systems
With the latest outdoor technology, watering your landscaping is no longer a chore. You can control smart irrigation systems through a smartphone app that detects weather patterns and adjusts watering schedules accordingly. This not only saves water, but also keeps your landscaping looking its best.
Choosing the right outdoor technology for your space
Incorporating technology into your outdoor living spaces is not just convenient — it also creates a more cohesive and connected living environment. Whether you're looking to add smart lighting for safety or a fully-equipped outdoor kitchen, incorporating outdoor technology can help you to create a backyard oasis that is both functional and beautiful.
Our team stays up-to-date on the top outdoor tech trends, and we're available to help you make your perfect space a reality. Along with functional technological advancements, we design with aesthetics to ensure your backyard is as beautiful as it is functional.
The latest outdoor technology designs seamlessly blend the convenience of indoor living with the beauty of the outdoors to enhance your overall experience. Explore your outdoor living options with a design consultation at BPI. Contact us to get started today.